InterContinental Hotel
Toronto, ON 
October 5, 2019
Registration
Register using the online registration form. The registration deadline is September 5, 2019. If a Trustee is unable to attend, please indicate that on the form.
Hotel Reservations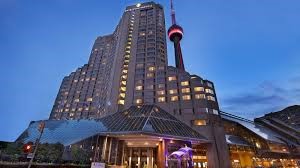 Please note that the hotel's room block at the Intercontinental Toronto Centre Hotel for the "CAUT Defence Fund" is no longer available. Any queries with regard to hotel reservation should be directed to Marcel Roy at CAUT (roy@caut.ca).
Reports
Member Unions are required to submit, in advance of the meeting, written reports on the status of bargaining. Please forward your report to Lynn Braun at braun@caut.ca. Attached is a fillable & optional form for you to use.
Travel
The CAUT Defence Fund will cover the cost of transportation to Toronto for Trustees. Air travel should be booked early to take advantage of the lowest fares. For ease of tracking flight credits and assisting Trustees so they don't have to pay their travel personally, airline reservations should be made directly with W.E. Travel (1-888-676-7747). W.E. Travel will require the booking code (6-2015) in order to make travel reservations and bill the CAUT Defence Fund directly.
UP Express
UP Express connects Toronto Pearson International Airport to Union Station and Hotel in just 25 stress-free minutes — less than half the time it often takes by car. Trains leave every 15 minutes with the first train departing Pearson Station at 05:27 and the last train departing at 00:57. There's no easier or more convenient way to get to or from Toronto Pearson.
Just visit UPexpress.com before Oct 4, 2019 and use promo code DF2019 to get your 25% discount on adult return tickets (round-trip) from Pearson Station to Union Station (regular price $24.70* CAD). Tickets are valid for 1 year.
select "From Pearson to Union,"
select an adult return ticket for your round-trip
Add to order then click the 'Buy Now' button and then Checkout to pay for ticket
At checkout...
apply the promo code DF2019 during purchase
Expense Claim Form
For reimbursable costs, use the general expense claim form 2018.